A rocket ship
Some exciting growth news link on Uber's china business growth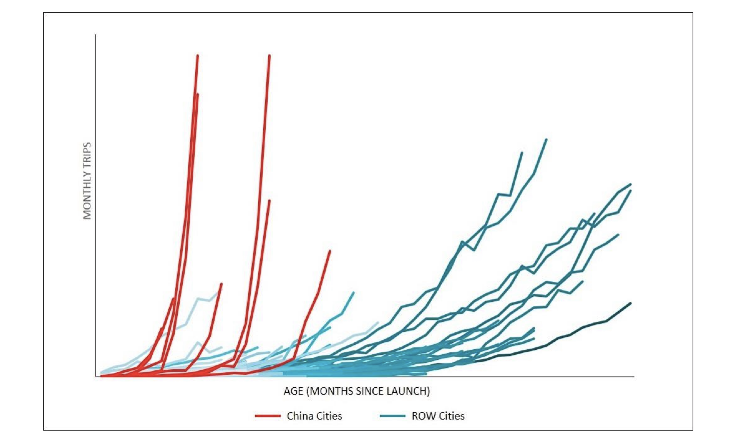 Demand
Uber is essentially in a business of two-sided marketplace. The biggest business driver is the organic demand and rider sharing addressable market has deeply associated with city density.
If we zoom out a bit and look at China cities' density, top 15 cities are already covering near 300 million people link.
Shanghai (34 million)
Guangzhou (25 million)
Beijing (24.9 million)
Shenzhen (23.3 million)
Wuhan (19 million)
Chengdu (18.1 million)
Chongqing (17 million)
Tianjin (15.4 million)
Hangzhou (13.4 million)
Xian (12.9 million)
Changzhou (12.4 million)
Shantou (12 million)
Nanjing (11.7 million)
Jinan (11 million)
Harbin (10.5 million)
With China government's urbanization push, there will be more people moving into those top cities as good education and health resource are more centralized in top tier cities
Supply
With same rationale of China's urbanization, there will be more cheap labor coming into top tiers cities. Then, the key of efficient supply is "Rebalance supply position" because transportation pattern is directional. The most common use case is commute and errands, which is naturally determined by city planning.
Along that thinking, Uber has the advantage of applying its learning & technology built with US/EU data to efficiently move supply around the city
Risks
The huge growth also comes with some risks: Fraud. As part of cultivating user's behavioral change toward rider sharing, we are heavily incentivizing user's first trips and engagement promos on demand side, as well as driver incentive on supply side